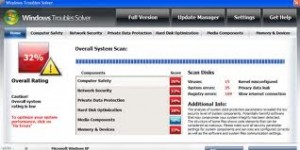 This post begins with a the deceptive name of the main character – Windows Troubles Solver. This is another new rogue anti-malware program. Windows Troubles Solver is very similar to the other fake security programs, distributed by the Fake Microsoft Security Essentials Alert Trojan. It most commonly gets into a user's PC when you enter malicious web pages or free online scanners. You will most probably notice its presence when your computers starts working very slowly and will not be able to load a web page. This rogue launches itself automatically by showing you fake security warnings and then it starts scanning your computer.
It is so arrogant that it will not even let you stop this process. After it is done scanning, it will display the staggering results, stating that your system has been assailed by an 'Unknown Win32/Trojan' infection. The primary objective of this rather convincing show is to make you believe that you need to acquire the extended version of Windows Troubles Solver, which can help you remove all the imaginary infections and threats.
In the end, the most important thing you need to know is that you must not believe Windows Troubles Solver simply because it is useless. So what you should do is get rid of it as soon as possible.
For the best antivirus software, use McAfee Ultimate Protection.