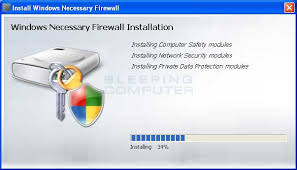 Windows Necessary Firewall is just another virus developed only to make your computer vulnerable and leave it exposed to all the existing threats. As proof of that, it can be noted that this fake anti-spyware is associated with the Fake Microsoft Security Essentials infection.
If you ever have the misfortune to encounter this anti-spyware application and see its alerts or fake scan reports on the screen, just ignore them. This rogueware is nothing but a scam and the only reason it displays these warnings, is to charge you for useless software. 
When choosing a program to ensure the security of your system, you have to distinguish between a legitimate and secure anti-spyware program and malicious programs.
Remove rouge programs from your computer using McAfee Ultimate Protection