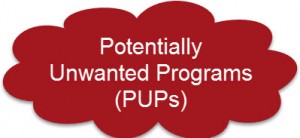 When you're downloading free programs onto your computer, chances are you're also installing PUPs, or Potentially Unwanted Programs. Here's how they get on your computer, what they do, and how to remove them.
If you're thinking baskets of doe-eyed baby dogs, then you're sadly mistaken. PUPs is the acronym that stands for Potentially Unwanted Programs. Also called bundleware, junkware, or PUAs (Potentially Unwanted Applications), PUPs are software programs that you likely didn't want installed on your computer. Why not? Here are a few things that PUPs can do:
– slow your computer down
– display numerous annoying ads
– add toolbars that steal space on the browser
– some collect private information
PUPs often come bundled with software that you did, in fact, want to download. By swiftly clicking through an installation, it's easy to miss the fine print and "agree" to these extra applications.
So why aren't PUPs simply called malware? The makers of PUPs felt that since they included the information necessary for consent in the download agreement, they shouldn't be lumped in with other malicious programs. ('Cause everyone reads download agreements, right?) So cybersecurity company McAfee came up with the softer, less mal-sounding term "Potentially Unwanted Programs."