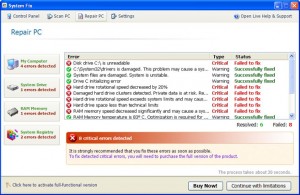 In the last week I have had 3 service calls from people whose computer has become infected with this malware. System Fix is a fake computer analysis program from the FakeHDD family of malware. This rogue program displays false alerts that are designed to make you think that your computer has hard disk problems causing corrupt and missing data. It displays these alerts in order to scam you into purchasing the program to fix these issues. In reality, there is nothing wrong with your computer or data. System Fix is installed through hacked sites, infected email attachments, or through fake online scanner pages.
Once installed, System Fix will display false error messages and security warnings. When you click on of these alerts, System Fix will automatically start to scan your computer and find additional errors that it states it cannot fix until you purchase and install an bogus upgrade that can fix the problem. Do not give these scam artists a penny of your money. Give me or your local computer guy a call to remove this malware.
For a good anti virus program use Avira.